Can I Negotiate the Terms of My Lease?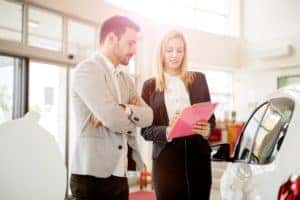 When you decide to shop for a new car, one of the most important questions to answer is whether you should buy or lease. Here at Joseph Buick GMC, our team is here to answer any questions you have during your car-shopping journey, including if the terms of your lease are negotiable.
Lease Conditions
Leasing is a great way to drive home in a brand new car while avoiding paying the full price of a new car. If you're looking into this option, there are a few important factors to consider. One thing to nail down before you sign a lease is the length of the lease. This typically lasts for 24 or 36 months, although there are some deviations to this that happen.
Since you'll be returning the vehicle you lease, you can't make any aftermarket alterations to the car. And because the price of your lease is calculated based on the expected depreciation of the car after being driving the average number of miles, your lease will have a mileage cap, which is typically about 10,000 miles.
Can I Negotiate My Lease Terms?
The answer to this question is somewhat mixed. Overall, you can negotiate the price of the car you want to lease. Once that number is realized, then we can come up with the lease price based on that figure. However, the way we calculate the monthly payments for your lease, which is referred to as the "money factor," is non-negotiable.
You also may negotiate a higher mileage cap on your lease if you expect to drive lots of miles, which will play into how we calculate your payments. However, you may find this to be worth it for you.
Visit our Cincinnati Buick dealership today to learn more about leasing a new car!