What to Ask When You Get GMC Service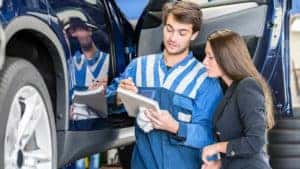 If you want to get the most miles out of your car and to make your miles more enjoyable, you'll want to find your home base for quality GMC service. For an optimal combination of skilled service, transparency, and friendliness, be sure to head straight to Joseph Buick GMC.
Our team will happily answer any questions you have about your maintenance or repairs. Here are some of the most important questions to ask before and after your service appointment.
What to Ask Before Your Service Appointment
Before you bring your car to our dealership for service, there are a few reasonable questions you should ask us to improve your experience, such as:
Q: What are your current GMC service specials?
A: Our service center offers plenty of rotating service and parts coupons for you to explore, so you can save money while you take care of your car.
Q: Are your technicians certified?
A: As an authorized GMC dealership, our service center is staffed by certified GMC technicians who are kept up to date on GMC service best practices.
Q: What services does my car need?
A: Since your car will be best taken care of by keeping up with your maintenance schedule, You should make sure you're not skipping any services when you bring your car to our dealership.
What to Ask After Your Service Appointment
Of course, you should feel totally comfortable asking us any questions you're curious about after your service is completed. We'll give you a receipt and a price breakdown of your services, but we'll be happy to walk you through it if you have further questions.
We'll also let you know when you should bring your car into our shop for service next. Feel free to ask about any other recommended services or parts upgrades to help keep your car in the best shape possible.
Contact our Cincinnati GMC dealership today to learn more about what to expect from your service appointment with us.