What's in My Car's Transmission?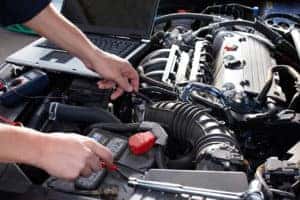 When you take home a rugged GMC truck or SUV or a luxurious Buick vehicle, you can expect to enjoy a smooth and reliable driving experience without a second thought about how your vehicle's parts work.
But learning more about how your auto parts help make your car run can help you enjoy your vehicle more. Plus, it will make it easier to search for the right parts from our store at Joseph Buick GMC, such as transmission parts.
What is My Car's Transmission Made Of?
Every transmission contains a complex series of parts that allow your car to smoothly and responsively shift gears, including:
Torque Converter: This part allows your engine to keep running while it's disconnected from your transmission. Essentially, a torque converter replaces the function of a clutch in automatic engines, allowing you to shift gears without damaging your transmission or engine.
Planetary Gear Set: Made up of a central sun gear surrounded by a series of planetary gears and an outer ring gear, this transmission component allows your transmission to function with multiple gear ratios by locking different gears in place.
Output Shaft: As the name suggests, this mechanism takes the power output from the engine and transmission and applies it to the vehicle's driveshaft to create forward motion.
Oil Pump: This component takes transmission fluid from the transmission pan and disperses it throughout the transmission as needed.
Transmission Service
To avoid any problems with your transmission, one of the most important things to do is visit our Cincinnati Buick dealership for routine transmission maintenance, such as transmission fluid changes. If anything does happen to your transmission, our team can get to the bottom of the issue and find the right auto parts your car needs, so you can get back on the road where you belong!
Schedule your service appointment today.